The Bank Workers Charity
BWC helps current and former bank employees, and their families by providing advice, expert support and, in some cases, financial assistance. Click here for a brief summary.
Their team of trained Client Advisors and Visiting Caseworkers, work alongside a range of partners to provide you with specialist support to suit your needs. They are also confidential, so nobody needs to know you're talking to them, unless you want them to.
HSBC pensioners get access to a wide range of help, services and, in some cases, financial support. Just a few of the areas they can help with include:
Disability and Caring
check that you are claiming all the benefits or statutory funding you may be entitled to
identify any aids or adaptations you may need
provide advocacy, advice and specialist information
help you identify your caring responsibilities and explore ways to get respite care.
Bereavement
identify any support you may need, for example counselling, local support groups, publications
make sure that you have the information to help you take practical steps following a bereavement
look into benefits available to you since your change in circumstances.
Isolation and loneliness
provide short-term telephone support
refer you to local support, groups, volunteering and other befriending services to encourage independence for the long term
make sure that any other areas of need are identified, for example, support if accessibility is a problem
support if you want to return to work.
Legal support
provide independent advice over the phone for a wide range of legal issues, this may include: wills & probate, power of attorney, criminal law or property disputes.
Financial support
one-off grant for items such as mobility aids and equipment, funeral expenses, boilers, respite care or even furniture
make sure you are receiving other support or services, if applicable, alongside a grant.
They can also support your spouse, partner or dependent (someone you're supporting financially, for example an adult child who relies on you).
Clients often feel there is no additional help available to them, and they're often surprised at the support BWC is available to provide.
So, even if you think there's nothing we can help with, it's worth contacting them.
Call them in confidence on their free helpline 0800 0234 834. They're open Monday to Friday, 9am to 5pm.
Registered Charity no. 313080
Helping Retired Bank Employees
Please click on this link to read how BWC may help you.
Improving and maintaining your mental health and wellbeing should be a priority.
That's why we've created a Wellbeing Calendar that's packed with daily actions to help you look after and improve your mental health and wellbeing. From taking time out to relax and practice self-care, to discovering ways of managing feelings of stress and anxiety, our daily tips can go a long way in helping you to feel more positive.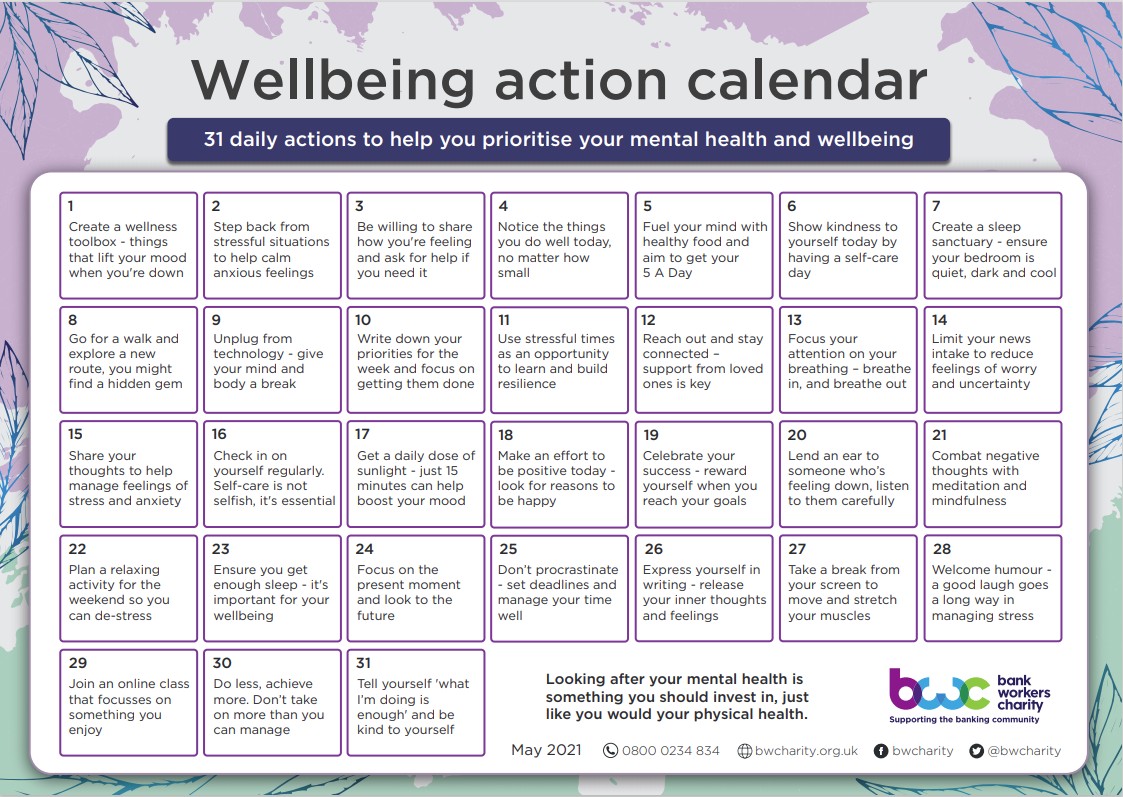 Supporting Carers
Caring for a loved one can be an incredibly rewarding experience, whether you're new to it, or have been looking after someone for a while. But quite often, we don't think of ourselves as having caring responsibilities and so, don't identify ourselves as carers.

As a carer, we want to make sure you're well equipped with the right information and support to help you in your caring role, and ensure you're looking after your own wellbeing too.

This week (7th-13th June) marks the beginning of Carers Week. We wanted to take this opportunity to remind you of the support that we provide for carers:
Accessing benefits – we can provide information and support to help you access welfare benefits you may be entitled to.
Looking after your mental health – we can offer you support and, in some cases, counselling or other therapies to help you look after your mental wellbeing.
Identifying technology and devices – we'll help identify technology that can make life easier for both you and the person you care for. This may include lighting control, voice activated systems or fall detection devices.
Accessing legal support - we can offer you a telephone consultation with legal experts who can advise you on most aspects of British law, such as power of attorney.
Getting financial support - we may be able to provide you with financial support with general living expenses such as disability aids or home adaptations.
If you're a carer looking for support, read our guide to caring for more information. Alternatively, if you'd like to speak to an adviser, you can call our free and confidential Helpline on 0800 0234 834, or head to our website to access LiveChat, we're available Monday to Friday from 9.00am to 5.00pm (except Bank Holidays).
We can help in lots of other ways too. Find out how we can support you, your partner, or dependents across a range of other areas including mental health conditions, relationship problems, debt and money management, bereavement, disability and long-term health conditions and housing issues.